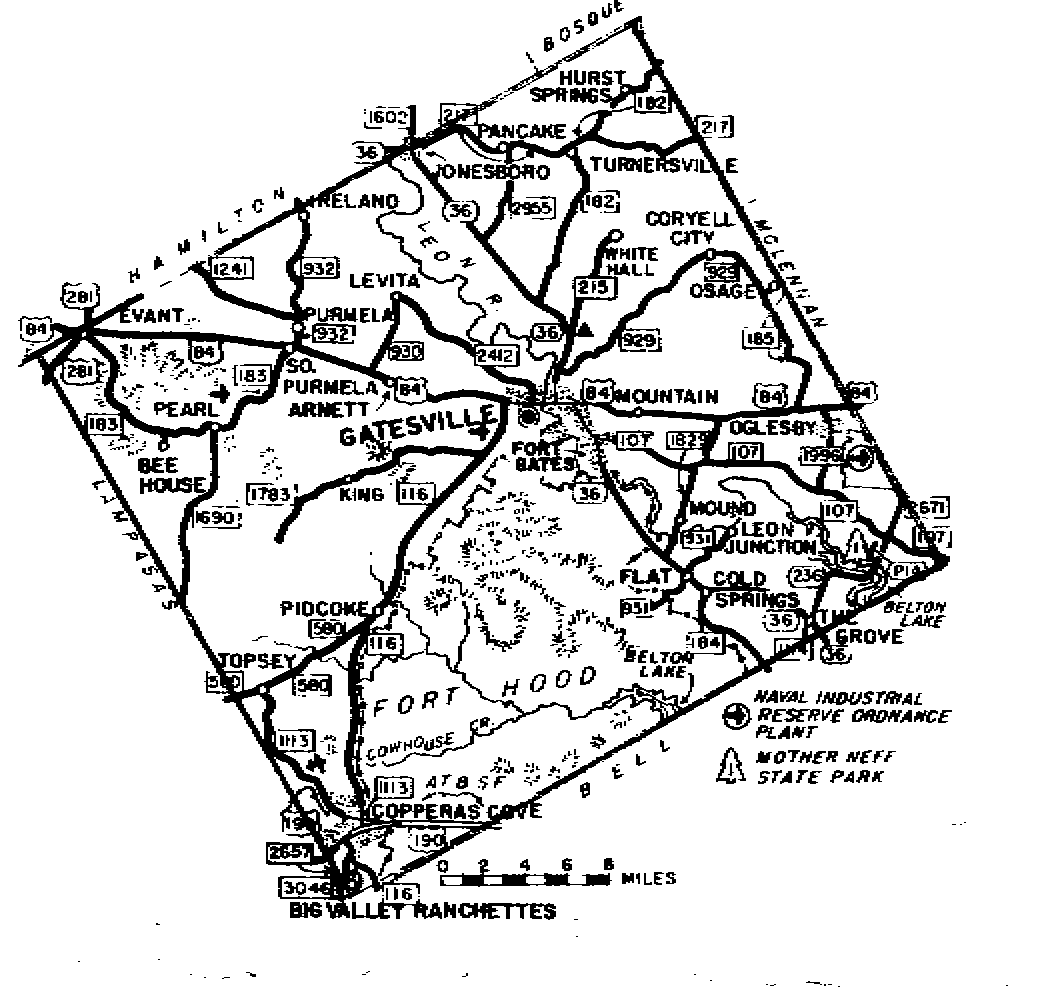 Counties Around Coryell

Coryell County is diamond shaped, bound on the North East by Mclennan County, North by Bosque County, on the West by Hamilton and South West by Lampassas County, on the South East by Bell County.





Some of our Favorite Links and links to Members Homesites
Please, if you find a link not working, send me a note and tell me which one.


THE HANDBOOK OF TEXAS_This is a six volume encyclopedia of Texas History, people, events, etc.
New Handbook of Texas
TX FAMILY GROUPSHEET PROJECT
City of Gatesville, Texas
Gatesville Library
Ross Family Web Site-There are some Coryell County Records available here
Official Web site of the 10th TX Infantry -This includes Coryell and surrounding county information.
A Barrel of Genealogy links (323 to research sites and 124 to Civil War Research Sites)
300 million Plus records for NC, SC, VA, TN and KY, there is also a message board.
GenForum-This is a fantastic research tool. Go to GenForum, insert surname you are working on in the search engine and if they have a file on that name you can read all of the messages and also answer any message, or enter a message.
Roots Web-A great research site
TXGenWeb project to name "lost" towns, ferries, gins, mills, and other landmarks
History time lines-to understand when and why people move from place to place, one needs to understand history's time lines. Check this site out.
Historic Cemetery Preservation, The Texas Historical Commission

The Gatesville Messenger
The Hamilton Herald-News
State BoundariesWould you like to see how the state lines have changed between 1650 and 1907, check this out.
Texas Historical Sites Atlas
WPA Project of interviewing people about their memories of the early days. This is a very interesting site and you can search for Surnames or specific stories.
Cyndi's Listmost complete list of genealogical links on the internet.


CORYELL COUNTY BULLETIN BOARD
REUNIONS
Let us know about your reunions, who, what, where and when and who to get in touch with for more information and we will run them here.





PEARL BLUEGRASS MUSIC EACH MONTH

For 5 years the Pearl school house community center has been the meeting place for the Bluegrass Music group to get together once a month on the First Saturday of each month. Come join the fun!.



CEMETERIES THAT ARE STILL INSIDE FORT HOOD
There are 5 cemeteries that are in the Live Fire Area-Bethel, Ruth, Friendship, Hubbard and Powell. These cemeteries can only be visited once a year, on the Sunday before Memorial Day, only then are family members permitted to clean the remaining cemeteries, replace markers damaged by gunfire, decorate the gravesites, meditate, visit with friends and relatives. It's a bitter sweet day.* The rest of the cemeteries are located in the Training Areas and can be accessed at most times of the year, assuming no military training is occurring in the immediate areas. Contact Area Access (254) 287-8398. to make arrangements to get a pass to visit. Also, the Archaelogy Division is a Point of Contact for information regarding the historic cemeteries. (254-288-0846)
BETHEL, BROWN, BRUCE, UNNAMED CEMETERY (WITH 66 GRAVES), ELAM, FRIENDSHIP, HALL, HENDERSON, HUBBARD, MAYBERRY, PLEASANT GROVE, POWELL, RUTH, SIBLEY, SPRING HILL, WALKER, and WHITE.
These cemeteries contain over 849 graves, I do not have the number of graves in 3 of these cemeteries.
* Taken from the Coryell County Family History Book, with permission.

NOTICE
INFORMATION FOR VISITING FT. HOOD CEMETERIES IN 2003

Visitation of cemeteries on Ft. Hood in 2003 will be on the Sunday before Memorial Day. Guided tours will meet at Building #1941 near the Ft. Hood Sportsman's Center near N Ave and the Rod and Gun Club Loop. Information may be received year around at these numbers. 254-287-8398 or Range Control at 254-287-9857.




Let us hear from you
---

Copyright 2003 by Bobbie Ross