CORYELL COUNTY COURTHOUSE, GATESVILLE, TEXAS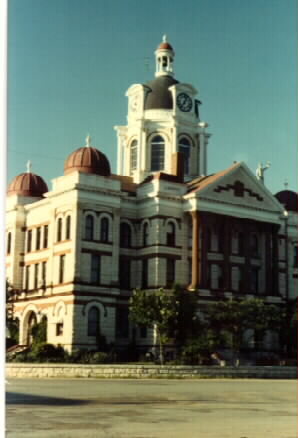 The Cornerstone for the Courthouse was laid Oct. 2, 1897 and the building was completed in 1898. The building is constructed of native limestone, quarried about 4 miles north of town. Shaping of the stones was done at the quarry site. A complete restoration project was started in 1987 and finished in 1988, which also replaced some missing statues on the roof area and the eagle on top of the dome which had been missing since before 1900.

HISTORY OF CORYELL COUNTY, TEXAS
Coryell County, created in 1854 from Bell County, is located in central Texas and has 1043 square miles of picturesque rolling hills and farm lands with the Leon River and Fort Hood within it's bounds. It was, at one time, known as the "Oat Capital of the World." Coryell County was the hunting grounds of the fierce Comanche and the peaceful Tonkawa Indians. The eastern branch of what was known as the "Cut-off Chisholm Trail" later called the "Old Corn Road", crossed Coryell County and signs of this can still be found today on the main street of the Grove and down Leon Street in Gatesville, the county seat. George B. Erath surveyed the east side of the county in 1834-35, James Coryell of Ohio and Tennessee, a friend of James Bowie, was with Erath and he surveyed out his 1280 acres headright, patented June 22, 1835, near the headwaters, of what was later named Coryell Creek. James Coryell died at the age of 34, never having lived in the County. When organized the first name considered was Pierce, but the name Coryell was chosen for the young man who thought the county "the most beautiful he ever saw."




TOWNS LOST TO THE FORT HOOD RESERVATION IN 1942
ANTELOPE
Antelope was located about 6 miles north of Copperas Cove on Latham Prairie, established between 1854 and 1857. A school was started in 1908, starting small but grew as other schools were consolidated with it: Refuge, Table Rock, Salem, Eliga, Ross and House Creek. By 1920 the school had 3 rooms and taught 10 grades.
BRANCHVILLE
Bethel Baptist Church was established about 1863 and remained active until 1942.
BEVERLY
Beverly was about midway between Killeen and Copperas Cove on the Lampassas to Belton Stage Line. There was a Post Office until 1942.
BOAZ
Boaz was located near the old Kinsey Way Station between Brown's Creek and Wolf's Creek. At one time Boaz had a Post Office, Mill, Lodge and School.
BROWN'S CREEK
Brown's Creek was 15 miles south of Gatesville and had a school through 8 grades.
COLD SPRINGS
A community in the southeastern part of Coryell County, had a school called Longview, a Post office and a Baptist Church was established in 1860.
ELIGA
Eliga was located where House Creek runs into the Cowhouse Creek on the old Gatesville to Killeen road. There was a Post Office, 2 stores, Blacksmith Shop and 2 churches and 2 cotton gins at Eliga. There was no school, so children went to Harmony, Salem or Shuck Holler to school. Shuck Holler was a one room school about 1 mile southeast of Eliga.
EWING
Ewing was on the Leon River about 6 miles southeast of Gatesville with a school and several churches.
FRIENDSHIP
Located in the eastern part of Coryell County, with Church and school building.
Harmony
Harmony was southeast of Jack Mountain with a one room school.
HUBBARD
Hubbard was about 6 miles past the Friendship-Ruth crossroads, had a 2 teacher school and a grocery store. Hubbard was referred to as "Bugtussle" by those who lived there, thus creating one of the more unusual names in the United States.
LATHAM PRAIRIE
There was a small community known as Latham Prairie near Antelope, with a school.
NEW HOPE
New Hope was said to be locted between Potter's Crossing on the Cowhouse Creek and Tama. It had a church and possibly a school.
REFUGE
This community was built around the Refuge Baptist Church, on the south side of the Cowhouse Creek on the Gatesville to Georgetown road.
RUTH
Ruth was located at the foot of the mountain known as Henson Mountain, in area known as Stovall Valley. Ruth had a school, post office and church.
SCHLEY
Located southwest of Gatesville, with a 2 room school and a Baptist church.
SEATTLE
A small town on the Leon River with Post Office, gin and store.
SPRING HILL
Spring Hill was 7 or 8 miles south of Gatesville on the Old Georgetown Road. It began it's existence in the 1850's with a one room school, later several churches and there were several cemeteries in the near by area. At one time Spring Hill was large enough to have a Deputy Sheriff.
STAMPEDE
A small community 6 miles south east of Pidcoke with church and school.
SUGAR LOAF
So named for Sugar Loaf mountain in southeastern part of Coryell County. One of the oldest communities in the county, had store, saloon, Post Office and churches. There were sufficient cattle in the area to attract several Indian raids.
TAMA
Located in the southern part of the county, Tama had Post Office, mercantile store, cotton gin, blacksmith shop, Woodman of the World Lodge, churches and Maple consolidated school.
TURNOVER
Creek and town both named for a turned over wagon load of corn, the town had a gristmill, blacksmith shop and school.

Drop us a line, we like to hear from you, let us know what you think of our web page.
---